Welcome to day 2 of the CoScreen launch week! As mentioned in yesterday's post, CoScreen stands out from other pair programming tools by giving you full control over what you share. Today, we'll talk about how our brand-new V5 takes window management while screen sharing to the next level.
Watch a 60 seconds demo of the announcements on day 2 of our launch week:
When two (pair programming) or even more developers (mob programming) work together in real-time on complex coding projects, they need full control of what is being shared. In CoScreen, you select the windows you intend to share with a click on the tab above each of your local windows.
Simultaneous screen sharing from multiple displays
For example, you can share VS Code from one display, iTerm2 from another, and Datadog in Chrome from a third display. No need to shuffle windows to share between your displays. Other screen sharing tools only allow you to share windows from one particular display, even if you have multiple connected to your computer.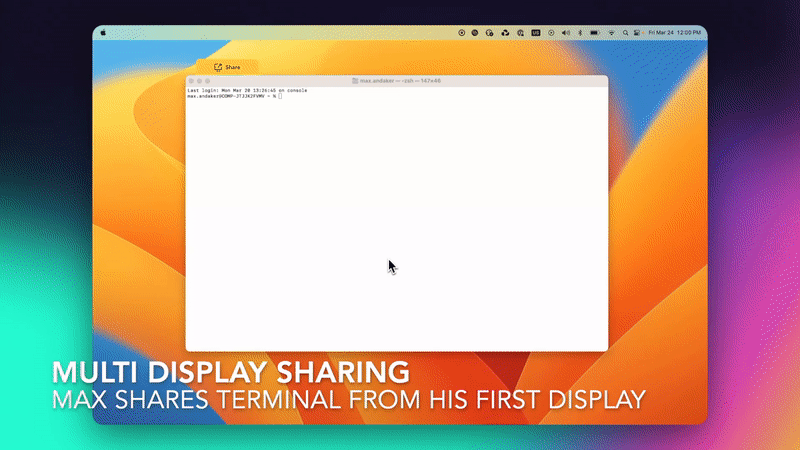 And of course, you can move them between desktops without stopping to share. This feature is currently available on macOS and later on Windows. At the same time, we also solved a variety of issues around virtual desktops like macOS spaces and transitions between full-screen apps.
Screen sharing that doesn't disrupt your flow

Unlike other screen sharing tools, CoScreen does not disrupt your workflow by bringing shared windows to the foreground. To make sure you're not missing any remote window, we're now showing a simple notification that lets you bring them to the foreground with just one click. (Pro-tip: You can also bring them to the front by clicking on someone's avatar.)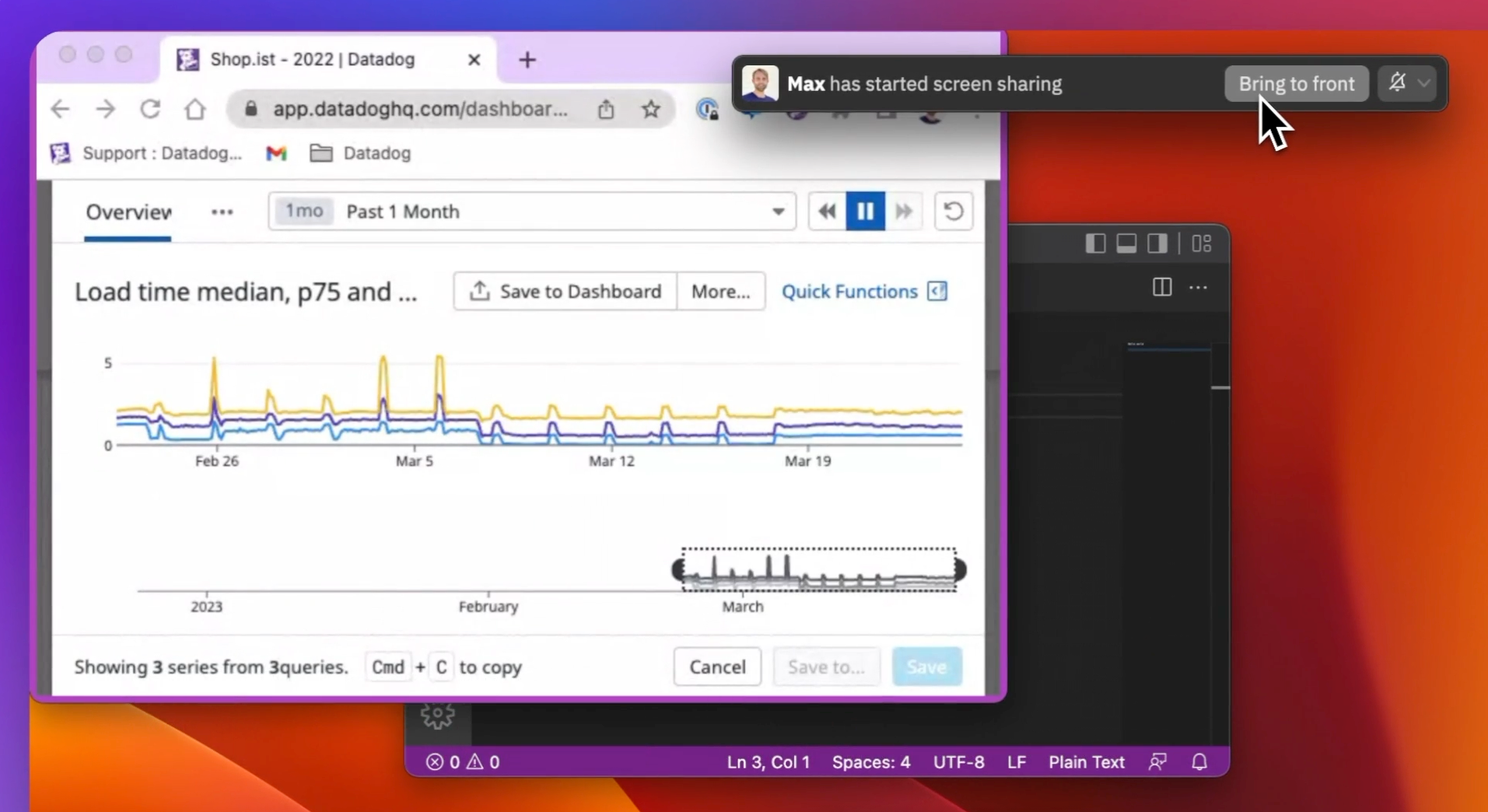 Focus on shared content
Our latest experimental feature enables you to auto-shrink the video chat UI so your faces are not in the way of important content (i.e. remote windows) that is shared with you. Stay tuned for further improvements in the next release.

In addition, you can now pin the video chat UI to the top of your screen if you want to keep your team in view while collaborating on a busy desktop full of other windows.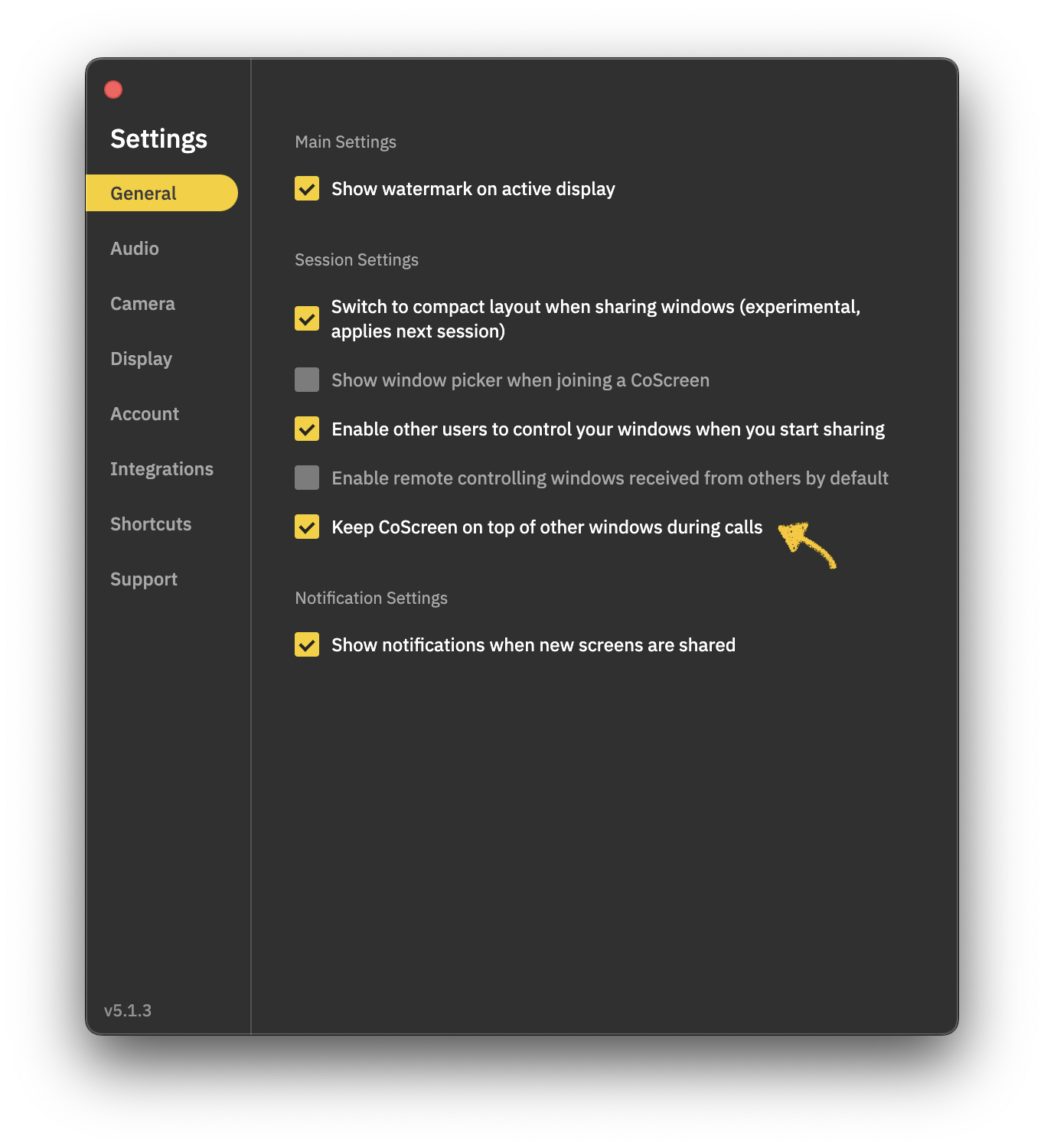 That's it for today – Get started with CoScreen v5.0 for free if you're impatient or check back in tomorrow for more ideas on how you can pair program with less friction with your peers.
Till and Team CoScreen