We've held back a big one for the final day of new announcements in the CoScreen launch week!
Many users have told us that they'd like to bring new team members or even customers into pair programming or debugging sessions more quickly, without having to install the CoScreen desktop app first. And so, after over 6 months of hard work, we're thrilled to announce the private beta of CoScreen for Web - the third platform in our CoScreen family, joining our macOS and Windows desktop apps.
Watch a 60 seconds demo of the announcement on day 4 of our launch week:
But why is CoScreen for Web such a big deal? 🤔
Because now, you can simply log in to your meeting through your browser and be up and running in no time! No more downloading, no more installing, no more waiting around for your team members to join if they haven't installed the desktop app yet. And they don't even have to be on macOS or Windows.
How you'll join a meeting
You will soon be able to choose on the CoScreen join page (https://join.coscreen.co/…) if you want to do so through the desktop app or from your browser. If you pick the browser path, you'll have to login for security reasons.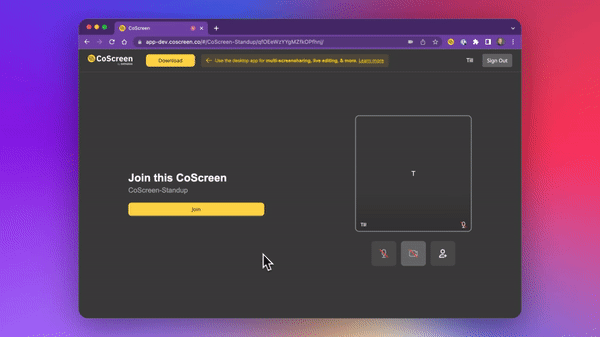 We'll support Google and Datadog as a start. You will only have to login for the very first time you use CoScreen for Web. Next, tune your audio and video settings, and you're in!
The CoScreen for Web experience
We developed a unique screen sharing UI in CoScreen for Web. It enables you to see shared windows and easily switch between them no matter if they were shared by the same or multiple users.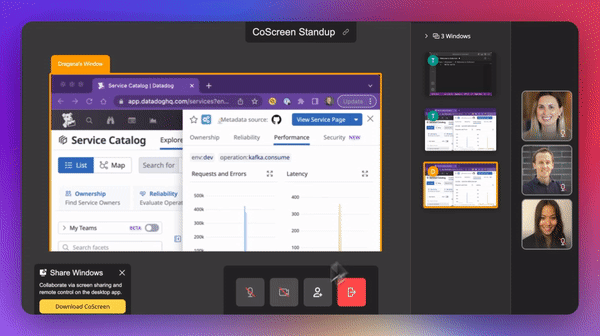 In a future version, you will also be able to see the mouse pointers and annotations of other users above shared windows. The UI already has basic responsiveness in V1 and we will make sure it works well on any device, from mobile, over tablets, to desktop devices in future versions.
To sum it up
Overall, CoScreen for Web will provide a fast and easy way for team members and customers to join meetings without any hassle. We know you're itching to try it out, so if you want early access to our private beta, contact us today. Otherwise, stay tuned for the unrestricted launch in a couple of weeks!
Also, recap on our announcements from day 1, 2, and 3 if you haven't had the chance to follow along.