Screenhero was an online collaboration tool like nothing else, right up until Slack discontinued it in 2017, leaving a void in the programming world. Fortunately, we here at CoScreen have built a brand-new tool that does everything Screenhero did (and more).
If you never got to use Screenhero, there was a reason why it became so popular: It was a tool that let its user screen-share any of your applications with any collaborator over the internet. You both were able to use your own mouse to interact with the application, making it specifically designed for remote teams. With it, you could collaborate in real time and with any app you had on your computer. It made a lot of work that much faster, and was specifically good for pair programming and for presenting to clients.
CoScreen provides people with everything they loved about Screenhero — just improved in nearly every way. It's packed with features that tackle the needs of remote teams through an entirely new concept.
When the World Lost Screenhero
Before Screenhero, remote developers had to work using video chat and screen-sharing tools that didn't encourage collaboration. The best solution was possibly tmux, which allowed users on Unix-like systems to access multiple terminal sessions. But it wasn't exactly an intuitive system, unless you really knew your Linux commands.
Screenhero removed that hurdle and allowed developers to work nearly in real time, using any app they could think of, which was a game-changer upon its release in 2013.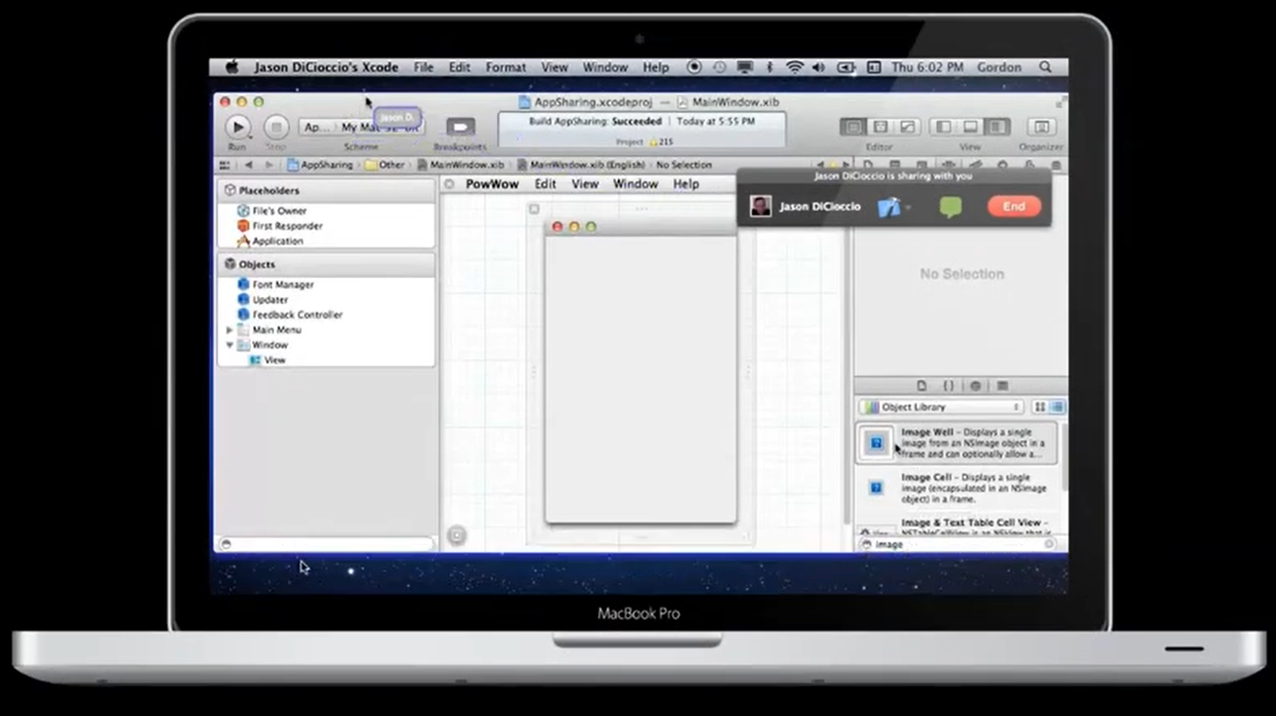 Not only could two people share a screen, but both could also control it with their own mouse. Clients could modify a project a developer was working on, or two developers could code together. It didn't take over your whole screen like other video services, either.
But then in 2015, Slack acquired Screenhero, and then discontinued the stand-alone service. They intended to rebuild all of the features directly into the Slack app to offer a more efficient experience, but developers decried the new integration. Worst of all was that it lost multiplayer support, and users complained that it wasn't as bandwidth-efficient.
And, while many of us use and love Slack on a daily basis, no one uses it for its video chat or screen-sharing. Interest in the screen-sharing service on Slack floundered, and it was eventually removed entirely.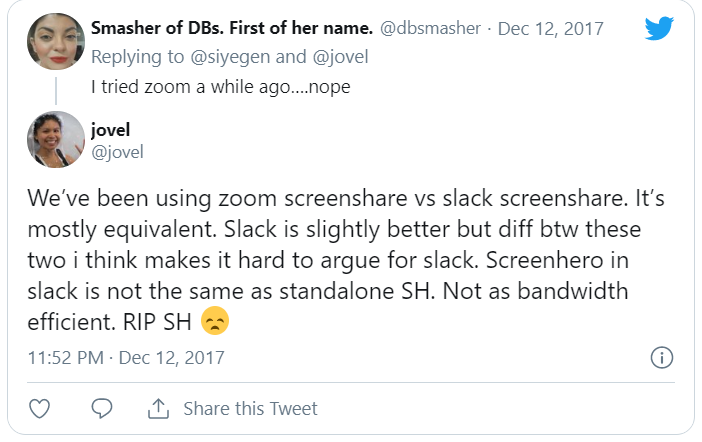 Developers all over the internet lamented Screenhero's loss.

Stand-alone substitutes have emerged in its place, but nothing has been quite the same. Most of the competition has just emulated what made Screenhero popular, without adding anything new.
The (Screen-Sharing) Hero Developers Need Right Now
Don Goodman-Wilson, one of the original developers of Screenhero, called CoScreen "game-changing" and now even works with them.
Developers still yearn for the return of Screenhero. But rather than waiting for this long-dead hero to rise from the grave, developers can instead lean on CoScreen to meet their needs in a new way. Not only does it do everything Screenhero did (and faster!), but it also offers a superior collaboration experience and is packed with innovative new features.
Perhaps the biggest improvement is that you aren't restricted to sharing one person's entire screen. Multiple people can share individual windows just by clicking on a tab above each window or by dragging them to the shared screen.
It also makes for a fundamentally more interactive (and vastly improved) user experience. No longer do you have to wait your turn while someone shares their screen — every user can share their own app anytime they wish.
Users with a second monitor can utilize it like a shared screen, allowing them to drag and drop windows from "their" computer to the shared space as they please. It's a handy way of keeping track of what window is where. Of course, CoScreen works just as well with a single screen, and it highlights who is sharing which window. And, whereas other services only allow two users to develop software together at a time, CoScreen allows up to eight to share and collaborate concurrently.
It also offers simple remote-control features that allow users to jump right into collaboration. With it, users can manipulate other people's windows and apps as if they were their own. To assist in collaboration, there's even seamless video and audio chat integrated that lets users easily discuss what they're working on.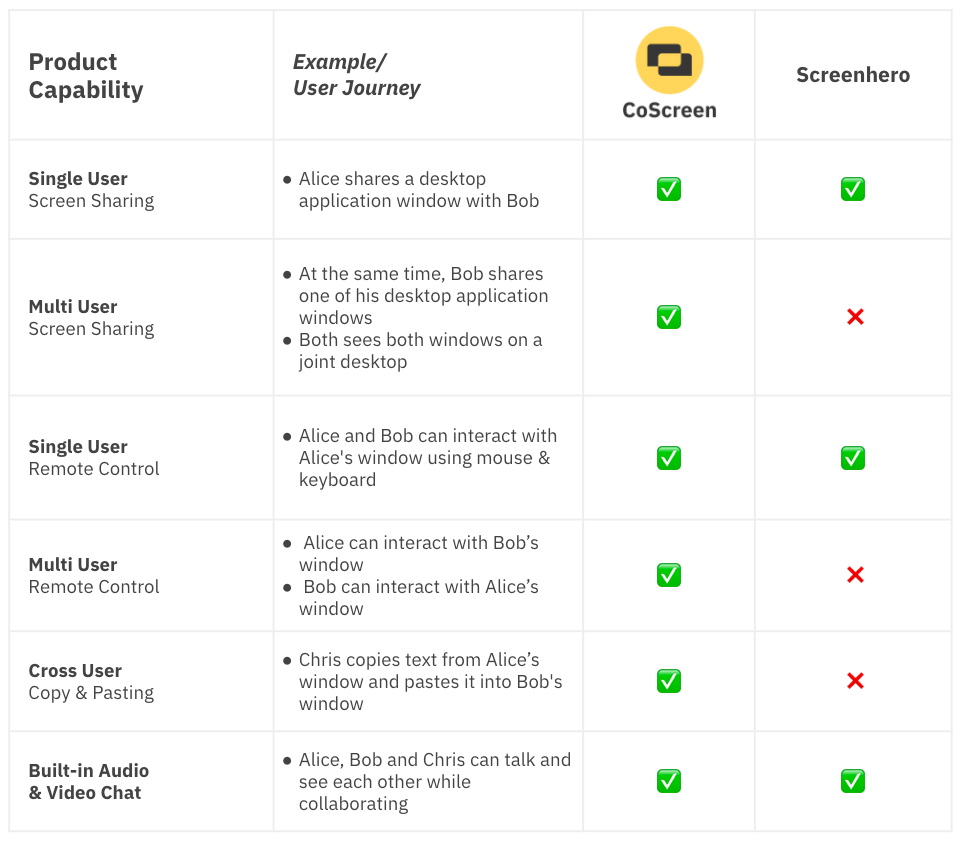 Feedback for CoScreen has already been hugely positive. For example, Don Goodman-Wilson, one of the original Screenhero devs, called CoScreen "game-changing" and now even works with them.
Even at this early stage, there have been a number of success stories:
How will you use CoScreen?
Beyond Pair Programming: How CoScreen Will Help Live Collaboration Evolve
We want CoScreen to help with all of your "deep collaboration" needs.
Interested in pair programming, but can't be in the same office? CoScreen allows developers to pair program as if they were sitting at the same workstation.
Need to troubleshoot a problem? How easy would it be to simply drag the screen over and get solutions in real time? This works for code and design reviews as well, allowing reviewers to suggest immediate changes rather than having to wait to see them implemented.
People in an onboarding or coaching role have found CoScreen invaluable to walk new members through the process. Since you can work with everyone collaboratively, they don't have to watch as you show them what to do — anyone can work together and learn as they go.
CoScreen also offers integration with apps such as Chrome, where it can replace your meetings in Google Calendar.
And CoScreen is not just for remote work! We all may be stuck working from home, but CoScreen has applications in the office. It will allow an in-office team to communicate with freelancers or clients or even easily present demos and get feedback in real time.
We're constantly impressed with all the ways we see clients using our product. Also — fun fact — we use it ourselves. As a remote team, we use CoScreen daily to work on making the tool better.
A hero for today ... and the future
So Screenhero may be gone, but we think you'll agree that CoScreen will be celebrated by anyone pining for a screen-sharing solution. The multi-user functionality makes it truly unique and uniquely suited for the problems facing remote teams. Not only is it perfect for our current work-from-home lifestyle, but it's also perfectly suited for in-person collaboration, ensuring that you'll use it long into the future. Drop us an email at hello@coscreen.co, and let's chat about how we can help you!